Yarnell Overhead Door Ltd. covers a complete line of Material Handling Equipment to cover all aspects of production, storage, and distribution of goods & services.
We have partnered with Dock Products Canada to offer more cost effective, energy efficient, and productive loading dock equipment. Our innovative product line of Serco/Kelley Products includes hydraulic, power-assisted, air-powered, and mechanical dock levelers, energy saving dock seals and shelters, energy efficient HVLS Fans, a variety of non-impact style vehicle restraints, and ergonomic lift tables.
We also offer advanced control systems to integrate them all together for the ultimate safe, efficient dock operation. We also offer parts for all makes and models plus 24 hour Urgent Care Service to keep your product moving.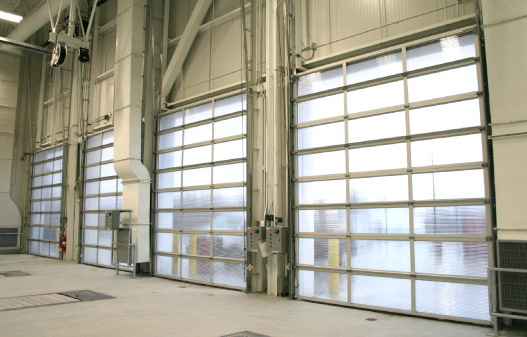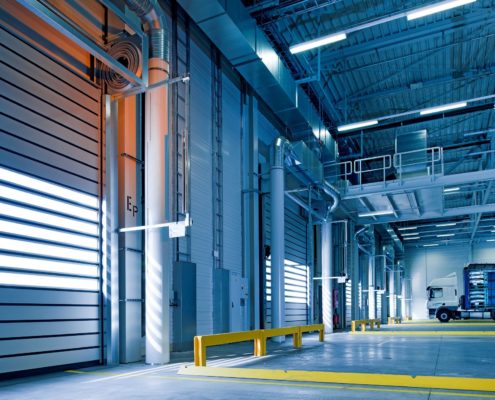 Material Handling & Storage
Containers & Pallets, Racking & Shelving, Warehouse Accessories, Workbenches, Cabinets & Lockers, Ladders & Scaffolding, Hand, Platform & Shelf Trucks, Carts, Reel Stands & Dollies, Lifting Equipment & Tool Balancers, Vehicle Service, Dock & Building Supplies, Conveyors, Roller Kits & Casters, Drums & Drum Equipment, Pumps.
Janitorial & Maintenance
Waste Containers & Carts, Ashtrays, Trucks & Bins, Cleaning Supplies, Vacuums, Cleaners, Chemicals & Paper, Bathroom Accessories, Paint & Accessories, Outdoor Landscaping, Furniture, Structures, HVAC & Fans.
Safety Equipment & Supplies
Safety Storage, Emergency Response, Personal Protection, Traffic Control, Security, Identification, Matting.
Welding & Metal Working
Gas Equipment & Accessories, Welding Machines, Soldering Tools & Accessories, Arc Accessories, MIG Guns & Accessories, TIG Torches & Accessories, Plasma, Welding Safety, Filler Metal & Fluxes, Pipe Markers & Guides, Chemical, Adhesives & Lubricating Equipment, Abrasives.
Tools & Equipment
Cordless Power Tools & Accessories, Corded Power Tools & Accessories, Generators, Air Tools & Accessories, Machinery, Cutting Tools, Hand Tools, Tool Storage.
Shipping & Packaging
Tape & Dispensers, Adhesives, Strapping & Stretch Wrap, Bags, Boxes & Void Fill, Seals, Staples & Ties, Benches, Moving & Truck Equipment.
Instruments Scales & Electrical
Instruments, Scales, Work Lights & Cord Reels, Warning Systems, Emergency & Industrial Lighting, Extension Cords & Outlets, Flashlights & Batteries.
Office Products
General Office Supplies, Task Lights & Magnifiers, Cafeteria Supplies & Water Coolers.
Dock Levelers
Edge-of-Dock Levelers
mount to the face of the dock and are an economical alternative to portable plates for medium traffic loading docks.
Mechanical Dock Levelers
offer premium, cost-effective features for efficiency and performance.
Air-Powered Dock Levelers
added benefits include smooth operation and push-button control to avoid ergonomic concerns.
Hydraulic Dock Levelers
are designed and built to meet the demands of high-volume loading docks.
Vertical Dock Levelers
directly contribute to environmental efficiency, security, and cleanliness.
ENERGY GUARD™
Provides a superior perimeter seal along the sides and rear of the dock leveler to prevent energy loss.
Dock Scissor Lifts
Dock Lifts
Make your dock 100% accessible, allowing you to move products safely and easily in a wide variety of dock applications.
In-Plant Lifts
Increase productivity, profitability and employee safety by bringing the work to the worker.
Truck Restraints
Vehicle Restraints
are designed to engage a trailer's rear impact guard and can be mounted to the dock wall, ground or recessed in a pit under the leveler.
Wheel Restraints
answer the challenge of safely securing trailers with missing or damaged rear impact guards and those equipped with lift gates.
Door Seals
Dock Seals
keep the elements out for a safe and productive loading dock.
Truck & Rail Shelters
Dock Shelters
help keep the elements out while also providing full trailer access for a safe and productive loading dock.
Inflatable Seals & Shelters
provide greater flexibility and a positive seal for improved dock safety, energy efficiency and improved loading dock environmental control.
Rail Shelters
protect products and goods from the elements during the transition between the loading dock and railway cars.
DryDock® Rain Sealing System
keeps external moisture out of the loading/unloading area using an ingenious "wiper" pad.
Dock Lights
Illumination of transport container interiors for safe loading & offloading of goods.
Bumpers
Protection of building foundation through the use of various sizes of solid rubber or laminated rubber bumpers.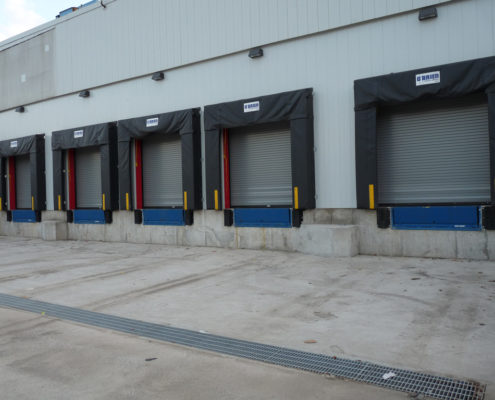 "Not only was the price fair but the quality of work and professionalism was incredible."
"I would highly recommend Yarnell Overhead Door to anyone!"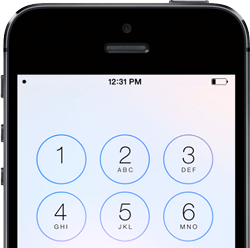 Interested in Industrial Products in Niagara Falls, On?
Call us at (905) 892-4333